Most truck drivers in the Winston-Salem and Greensboro aren't just shopping for a vehicle that delivers premium power and nothing else. When you go looking for a new truck, you'll want that extra ability, but you'll also want a vehicle that can double as your family's primary car as well. The 2019 Ram 1500 is a truck that recognizes and respond to all of your needs on the road.
The Under-the-Hood Muscle You're Looking For
For those drivers High Point drivers whose lives demand high performance, the new Ram 1500 doesn't disappoint. In addition to a new lightweight chassis designed to improve performance, the 2019 truck offers a pair of powerful powertrain options. These include a 305 horsepower V6 and, for those who need more, a 5.7-liter V8 capable of 395 horsepower with 410 pounds-feet of torque.
On top of that, the Ram 1500 utilizes a variety of performance-enhancing features like trailer-sway control and more. Whether you're to haul something in its bed or take advantage of its peak 12,750-pound towing capacity, you'll have plenty of tools available to make sure you get the most of your truck.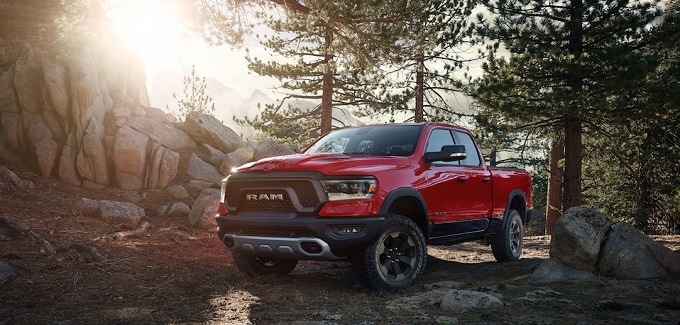 A Friendlier Truck for Everyday
And for those days where you're hauling people and running simpler errands? The Ram 1500 is well-equipped to handle those too. With comfortable seating for up to six, the Ram 1500's various configurations provide plenty of options for drivers in need of a truck that can handle everyday just as well it deals with the extraordinary.
The Ram 1500 is so well-equipped for this, in fact, that it recently took home top honors at the Greater Atlanta Automotive Media Association's Family Car Challenge event. Speaking about the truck, GAAMA president Daryl Killian had nothing but praise.
"Our members were impressed with Ram 1500's combination of technology, functionality, drivability and family-friendly features," commented Killian. "It's only fitting that the all-new 2019 Ram 1500 won our top overall award given how the 2019 Ram 1500 is loaded with well-thought-out features that are important to families: segment-leading fuel efficiency, impressive ride quality, clever storage solutions and a comprehensive infotainment system."
Come and Learn More at Our Location in Kernersville, NC
Does the 2019 Ram 1500 sound like the truck you're looking for in Charlotte, NC? Drop us a line at Kernersville Chrysler Dodge Jeep Ram. Our friendly sales team would be happy to run you through all of our available options and get you behind the wheel of a test model.