Our Awards

2013-2019

Kernersville Chrysler Dodge Jeep ram is the Alpha Ram Dealer for 6th year in a row. Great Selection, Great Prices, Great Trade-In value for your vehicles needs. Serving not just North Carolina but the east coast including Florida, Georgia, South Carolina, Virginia, Washington DC, Maryland, Delaware, Pennsylvania, New York and New Jersey. Thank you, to all our customers for making us #1 on Southeast and #2 in United states.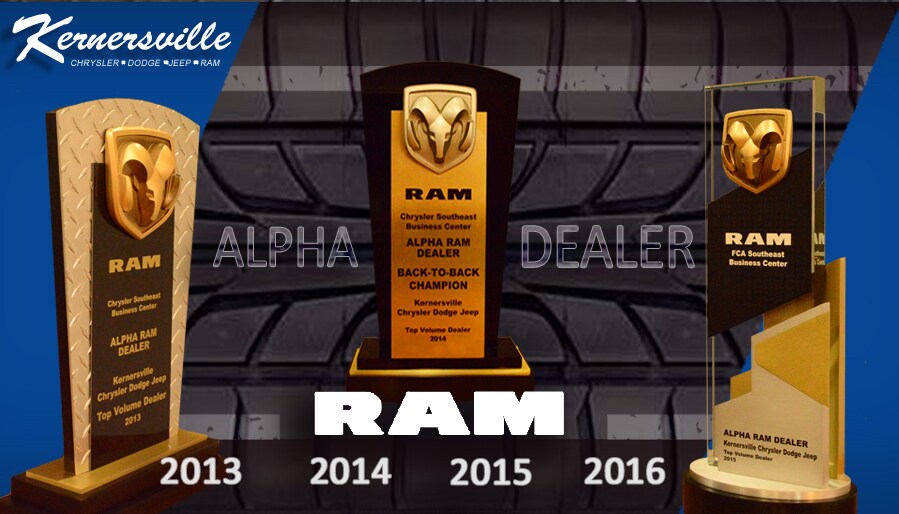 ---
About Us


Kernersville Chrysler Dodge Jeep Ram, Serving Kernersville, Winston-Salem,
Greensboro
, and High Point of North Carolina.


At Kernersville Chrysler Dodge Jeep Ram we are experts on the new Chrysler, Dodge, Jeep and RAM lineup including models like the 2500, 3500, Dart, Grand Cherokee and 200. We also double as a used car dealership in Kernersville, offering high quality used cars to drivers in Winston-Salem, Greensboro, High Point and beyond. Additionally, we offer high-caliber RAM, Dodge, Jeep and Chrysler service, auto financing, and genuine car parts.

We aim to create an amiable, pressure-free environment for our customers. We promise to not push cars, but rather Kernersville Chrysler Dodge Jeep Ram suggests the ones that will best meet your lifestyle and budget.  Once you have found the perfect new or used car, we have a team of auto financing experts that will work to get you a car loan or lease that fits your individual needs.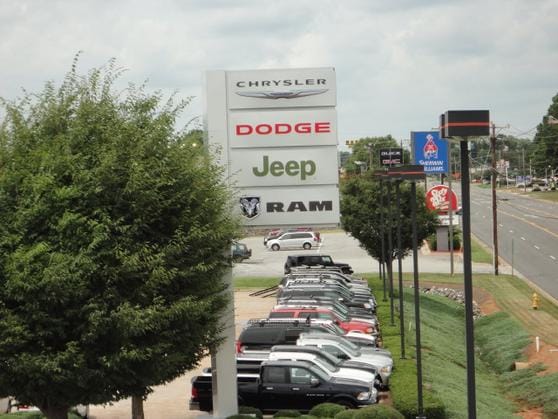 Once you have the new car in your possession, our service department  is available to help make sure you stay on track with ongoing service for your vehicle so you can get every last mile paid for. Kernersville Chrysler Dodge Jeep Ram even has drivers' backs covered in the event of an accident, thanks to our state-of-the-art RAM, Dodge, Jeep and Chrysler service center that uses certified parts and has an expert staff who are continuously training on the latest repairs and tools of the trade.
To learn more about how Kernersville Chrysler Dodge Jeep Ram, serving Kernersville, Winston-Salem, Greensboro and High Point is dedicated to making your life easier, please contact us. Or better yet, stop in and meet us in person at 950 NC Highway 66 South Kernersville, North Carolina. We're close to Greensboro, Winston-Salem, and High Point. We hope to have the pleasure of meeting you soon.



Introducing Your Local Home for Chrysler, Dodge, Jeep, and Ram Vehicles
At Kernersville Chrysler Dodge Jeep Ram, we're proud to bring the drivers of North Carolina the high-quality, brand new and pre-owned vehicles from all of our favorite carmakers. We first opened our doors more than 25 years ago, and we're still family owned and operated to this day.
Our Kernersville dealership was first established in 1992, by Timothy Mitchell, and his son, Blake Mitchell is still our General Manager today. In fact, many of the faces around our halls are still familiar to our longtime customers. We're members of the community, just like you, and we want only what's best for our friends and neighbors.
Available Vehicles and Delivery Service
At Kernersville Chrysler Dodge Jeep Ram, we know quality vehicles when we see them. That's why we're still happy to bring our customers the latest models from all our manufacturers. Whether you're looking for a brand new Ram truck, or a rugged and fun Jeep brand SUV, we can help.
We also understand that not all of our customers are in the market for a current model year, brand new vehicle. That's why we carry an extensive collection of pre-owned vehicles as well.
Best of all, you don't have to live in our neighborhood, or even the state of North Carolina, to take advantage of our amazing collections of available vehicles, because we ship, up to 300 miles.
Delivery Services for New and Pre-Owned Vehicles
You don't ever even have to step inside the dealership to try out your new, or new-to-you, vehicle. You can do all of your finance and delivery paperwork online, and then we'll make sure you get your new car.
But, if you do decide you want to visit us in person, we'd love to meet you. In fact, we'll even give you 500 dollars credit to use towards an airline ticket to visit us. You can fly here on our dime, and then drive back home in your new vehicle.
Commercial Vehicles Available
If the new vehicle you're looking for needs to be sturdy and powerful for work, we have that, too. We carry a number of commercial-quality trucks and vans that are perfect for any number of business models. You can order the commercial vehicle your business needs to succeed, and you can customize it, all right here at our Kernersville dealership.
Full-Service Dealership
At Kernersville Chrysler Dodge Jeep Ram, we're so much more than just car sales. We also offer professional auto finance services, including helping you find the perfect loan rate or lease deal for your budget.
Plus, we provide our customers with topnotch service long after they've driven away in their new vehicle. With our expert trained and certified service center, we help your vehicle run like new for a long time, with routine maintenance and service appointments.
Don't miss our custom parts ordering service as well. When you're ready to outfit your vehicle the way you want it, we can help, by ordering only genuine, MOPAR parts and accessories.
Doing Business with Kernersville Chrysler Dodge Jeep Ram
We invite you to browse our website. Explore our collections of available vehicles, discover all of the various services we offer. When you're ready to move on to the next step toward getting your next new vehicle, we're here for you. We're conveniently located, we're open Monday through Saturday, and we're close to home for a number of area towns, including:
Greensboro : 15 miles
Winston-Salem : 15 miles
Charlotte : 90 miles
Raleigh : 93 miles
Durham : 70 Miles