Thank you for helping us reach #2 Ram Dealer in Country for six years in a row from 2013-2019 and #1 Alpha Ram Dealer in the Southeast for Seven years in a row! Receive the best deal online with our this month specials:
Subprime bonus cash
YOU MUST have credit score of 620 or below to qualify for this bonus cash. Incentive of up to $1000 in included in our qualified vehicles.

FREE SHIPPING!!

Free Shipping on New Vehicles up to 300 Miles!
All 
new 
vehicles, free shipping up to 300 miles away from our dealership or credit up to $500 towards your own shipper or airfare ticket to our dealership for one person worth $500. Yes, you read it right. we raised free shipping radius to 300 miles. You won't even have to step inside the showroom for your purchase. Our trained staff can work with you on shipping your dream vehicle to your doorsteps. Calculate your shipping cost 
here
 or you can call us at 
888-656-5791
 for more details. you can virtually walk our showroom with the 
360°  tour
!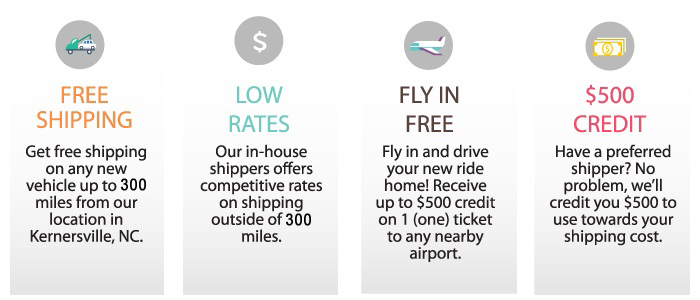 Free Shipping on CPO Vehicles up to 200 Miles!
All 
Kernersville Certified pre-owned vehicles(CPO) are eligible for free shipping up to 200 Miles from Dealer.
YOU MUST finance with dealership, and you must finance minimum of $5,000.
Give us a call at 888-656-5791 for more details and shipping beyond 200 miles radius on certified pre-owned vehicles.
Spring Sale ends March 31st
Spring Sale event brings great discounts on New Ram Heavy duty trucks. Along with heavy Duty Ram Trucks, you will receive volume Ram Dealer discount on Ram light duty Trucks. Ask for incentives on Chrysler Pacifica Hybrid,
Dodge Journey, Dodge Challenger, Dodge Charger, Dodge Durango,

Jeep Compass, Jeep renegades, Jeep Cherokees, and Jeep Grand Cherokees while calling. See dealer for details or Call 888-656-5791. Must take retail delivery by midnight on the last day of the event.
Business or Up-Fit Bonus Cash


Business owners may qualify for additional incentives for up-fitting their vehicles or add graphics. Business bonus cash is included in the internet price for All Cab & Chassis Trucks, Promasters and Promaster City this month. Business owner may qualify for additional rebates.
Call to confirm if you qualify.
Conquest Bonus Cash

Receive conquest incentives if you currently own a equivalent non-Chrysler vehicle (including Honda/Toyota/Nissan or KIA). you must own non-FCA vehicle to qualify for conquest bonus cash. Give us a call or stop by for more details.Eligible vehicles: Select new models -

Incentive is included in our Internet Pricing on all New 2019-2020 Ram 1500 DT Trucks, and All New Ram Heavy Duty Trucks(must own HD truck)
, all new Ram Promasters and Promaster City.

Ram 1500 Truck Sale Event

New Ram Trucks include Chrysler capital & Conquest bonus cash in them. Additional Rebates on all New Ram Light duty are included in our internet pricing and will continue till 
midnight on the last day of the event.
 Call 888-656-5791 and reserve you dream vehicle before sale ends.
View New Ram 1500 Truck Inventory
Chrysler Capital Bonus Cash

Incentives are included in our Internet Pricing. you must finance with Chrysler Capital in order to receive bonus cash.

Eligible vehicles: select new models -

Incentive is included in our internet pricing on all new Ram 1500 Classic(DS) and DT Trucks.
Incentive is included in our internet pricing on all New 2020 Chrysler Pacifica, 2019-2020 Dodge Journey, New 2020 Jeep Grand Cherokee (exclude SRT), 2020 Jeep Compass, 2020 Dodge Durango(excl SRT), and 2020 Jeep Cherokee, 2019-2020 Jeep Renegade, and 2020 Dodge Grand Caravan.
Google Virtual Tour of Showroom


Before you come-in, take a virtual tour to our showroom.
You can now virtually walk our showroom with the 360°  tour!
you can call
888-656-5791 for more details

Report any broken links to TSingh@31Dodge.com