Meet the 2021 Ram 3500 at Kernersville Chrysler Dodge Jeep Ram
The Ram automakers have had several inventories for the new year, including Ram 3500 trucks. As known, Ram trucks offer the best capabilities and features to complete any task effortlessly, and the Ram 3500 is not an exception. We are proud to offer this excellent truck here at Kernersville Chrysler Dodge Jeep Ram.
Ram 3500 Performance and Engine Options
The 2021 Ram truck has an array of power options lined up for you. Interestingly, the truck bears the best-in-class torque production, having 1,075 pound-feet. There are three engine options, one being the Cummins Turbo 6.7-liter High output diesel engine. This engine mates to an automatic six-speed transmission, which is electrically controlled, giving the truck the best torque production. On the engine powertrain, the Ram 3500 gets a horsepower production of 420 and a torque of up to 1,075 pound-feet. The engine also gets a towing best-in-class capacity of 3,700 pounds and a payload of up to 6,570 pounds.
Another power option is the Cummins Turbo l6 6.7-liter diesel engine with an electronically controlled auto six-speed transmission. The engine is super responsive, quiet and gives the Ram truck outstanding towing capabilities. The transmission comes with gear ratios, giving the truck a horsepower production of up to 370 horsepower and a torque of 850 pound-feet. Notably, the l6 engine gets a towing capacity of 22,670 pounds and a maximum payload capacity of up to 6,840 pounds.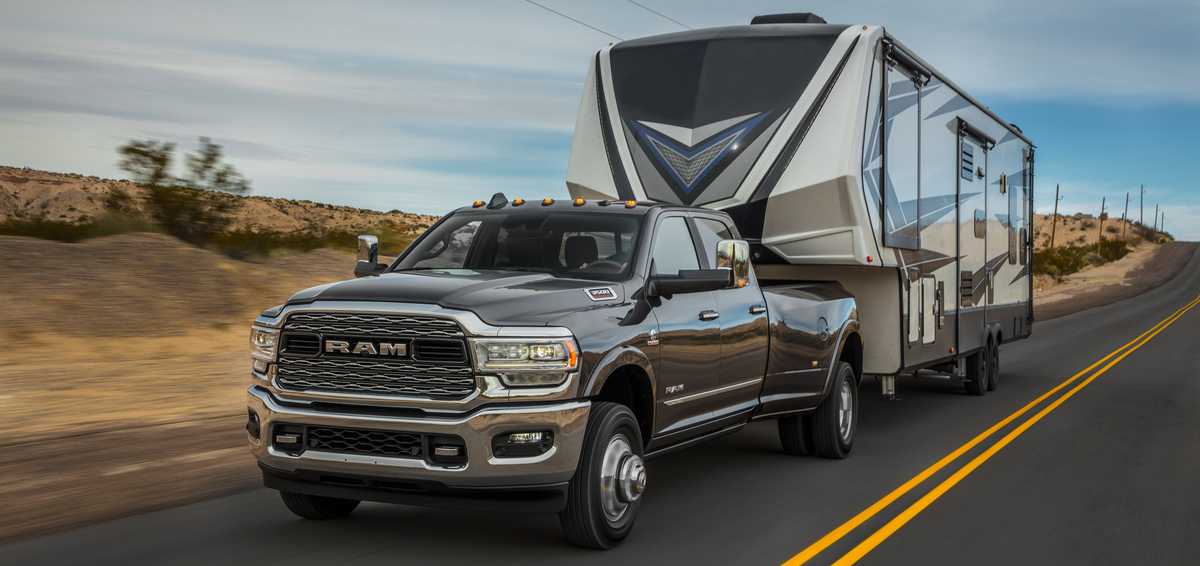 If the two engines aren't sufficient yet, you can stick to the Hemi V8 6.4-liter, which comes standard in all the Ram 3500 trucks. The engine pairs to an auto eight-speed transmission and gets a fully electronic control. A variable cam timing system gets a maximum torque of up to 429 and a horsepower of 410. Towing can go up to 18,210 pounds, while its payload capacity stands at a maximum of 7,680 pounds.
Exterior Capabilities
Capabilities are all in plenty in the new Ram truck. For example, the car mirrors offer fold tow mirrors that are power enabled and bear a surround-view 360-degree camera. The mirrors come with a trailer reverse control system that provides a trailer surround-view making hitching easier for you. The cockpit's gauge cluster is an essential feature of the car's capabilities, bearing a trailer monitoring feature and status alerts. You can get live trailer pressure readings as well as the trailer light checks.
Interior Features
Ram 3500 bears a first-class technological cabin. The car has premium quality materials with all the functionalities to keep you going. Despite having a spacious and responsive interior, the truck is full of technologies to complement your driving skills. One of these is the available LCD rear monitor that allows live stream videos of the rear-talk of the driver's digital information cluster, with all the trailering functionalities you need. On the seven-inch display, you gain access to off-road pages and the trailer light check, both in 3D graphics.
The seating offers the best comfort in the Ram 3500. Depending on the model you choose, you can get leather seats with wood and aluminum accents or brown leather with filigree stitching. Cargo carrying options are increased with a fold of the rear seats, including a left single seat. While the cargo bed could be the ideal cargo space, the cabin also bears numerous storage compartments, including the Ram bins in the center console, door, and under-seat storage solutions for minor and valuable items.
Technology Features
The car's Uconnect system is the largest and most advanced in its class. Featuring a 12-inch touchscreen display, it bears navigation, split-screen capabilities, pinch and zoom, and other functionalities at your fingertips. It also allows you to view the cars surrounding environment through the 360 degrees camera. Car and smartphone connectivity gives you the best of a traveling environment. Are you using an Android phone? The infotainment has an Android Auto feature that allows you to access music, messages, and access other phone apps.
Apple CarPlay, enables iPhone compatibility, allowing you to get navigation guidance, access iPhone apps, and much more through a swipe. Premium entertainment and sound come with various features, including the SiriusXM and the Harman Kardon Music System. Other technological features include 4G Wi-Fi connectivity and remote vehicle start.
Ram 3500 Safety
There are tech safety features in the new Ram. These include a forward collision alert, cruise control, lane sense technology with the lane assists and departure system, park sense with a rear park assists, and active emergency braking.
Visit Kernersville Chrysler Dodge Jeep Ram to Learn More
If you would like to learn more about all the 2021 Ram 3500 has to offer, we encourage you to visit our dealership in nearby Kernersville, NC, for a test drive of your favorite trim level. Our friendly and knowledgeable team members can help you pick out the perfect Ram 3500 for your unique needs and budget. We look forward to working with you soon!